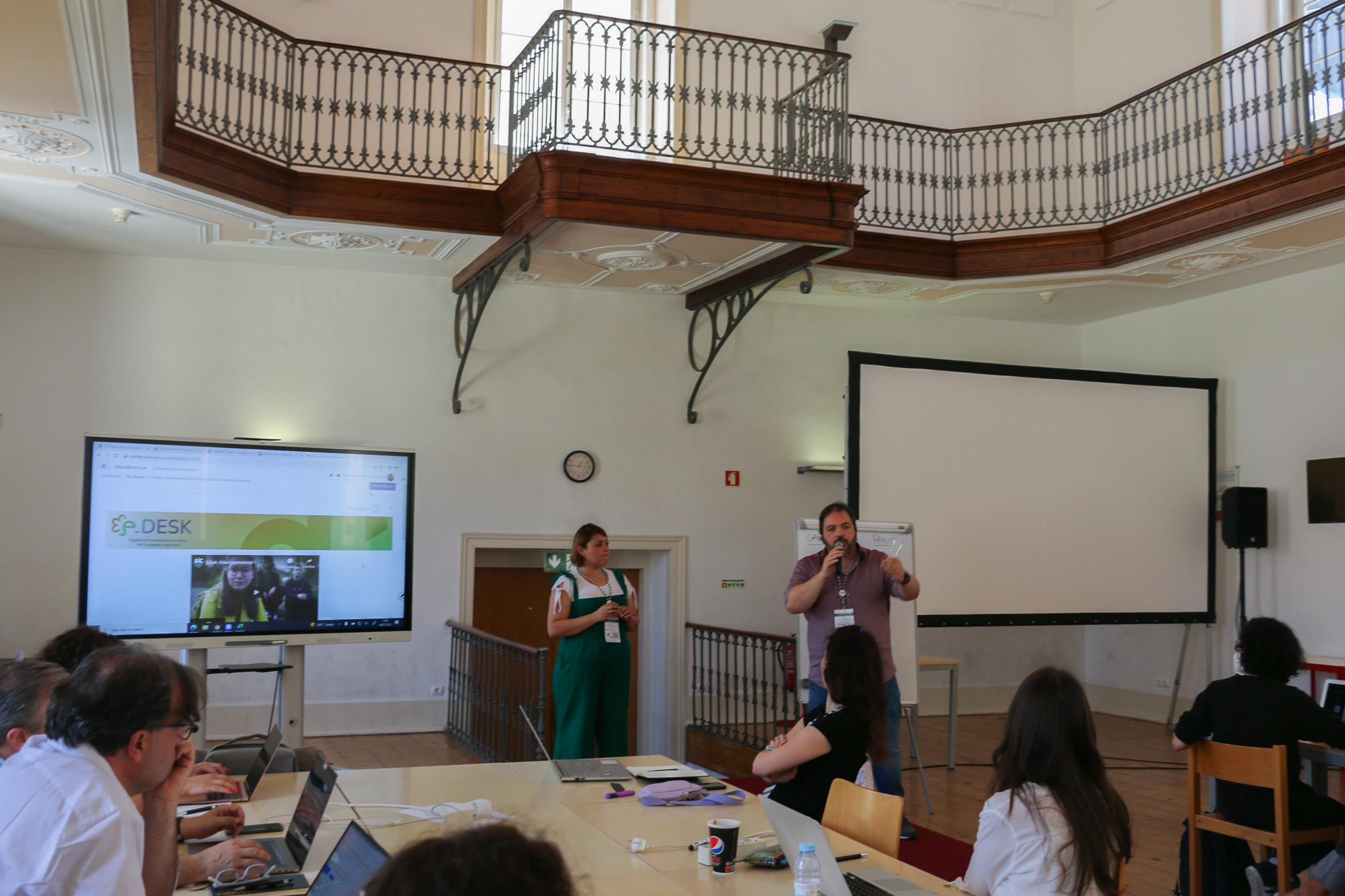 19 Jul

Teachers and trainers from four European countries trained in Lisbon to improve their digital and entrepreneurial skills

The Universidade Nova de Lisboa has hosted the Staff Training of e-Desk, a programme within the framework of Erasmus +, which is developing a new methodology to improve the entrepreneurial and digital skills of European university professors

More than forty teachers and professionals from different European countries have participated in the e-Desk Staff Training to test the methodology that the European programme is developing in order to train university trainers in digital and entrepreneurial skills.

Led by the Santander International Centre for Entrepreneurship (CISE), e-Desk aims to bridge the digital divide that the COVID-19 pandemic highlighted in the traditional education system, by training university professors in digital and entrepreneurial skills so that they can include them in their training programmes and transmit this knowledge to their students.

The e-Desk methodology combines face-to-face and digital learning simultaneously. It contributes to improving the efficiency of higher education programmes and allows teachers to be better prepared to adapt their classes. Ensuring greater accessibility and equal opportunities for students.

To develop its methodology, the project has detected the key success factors of hybrid education programmes: it has identified international best practices in entrepreneurial and multidisciplinary education with an online and blended learning approach. With this information, it has built an improved MOOC and ToolKit, as well as improving the the project's methodology that has already been tested in Lisbon.

The participants selected for the Staff Training come from the five institutions promoting e-Desk (University of Cantabria (UC), Lappeenranta-Lahti University of Technology (LUT), Universidade Nova de Lisboa and University of Zagreb, together with CISE) and have served to test the methodology being developed by the programme. They were the first to access the MOOC developed by eDesk, completing their training in Lisbon. With the knowledge acquired, they will put into practice in their classrooms a pilot implementation of the methodology. Once this first phase developed by the partners has been completed, the methodology will be open to all interested teachers and trainers free of charge.

Digitalisation and entrepreneurship

Digital competences as well as entrepreneurial skills are at the top of the European Union's (EU) policy agenda, in anticipation of the skills needed to foster innovative societies. To this end, the EU has developed the European Entrepreneurial Competences Framework, Entrecomp, and the Digital Competences for Citizenship Framework, also known as DigComp. EntreComp is a common reference framework that provides a comprehensive description of the knowledge, skills and attitudes that people need to be entrepreneurial and to create financial, cultural or social value for others. DigComp provides a common language to identify and describe the key areas of digital competences.

Both are tools at EU level to improve the digital and entrepreneurial competence of citizens, to help policy makers formulate policies to support their development and to plan education and training initiatives to improve the competences of specific groups.

About e-DESK

The e-DESK project was born within the Erasmus+ European program framework and is being carried out with the collaboration of five institutions from four EU countries: Santander International Entrepreneurship Centre (CISE) and University of Cantabria from Spain, Lappeenranta University of Technology from Finland, University of Zagreb from Croatia, and University Nova of Lisbon from Portugal. This ambitious initiative has been co-financed by the European Commission with a budget of over €230,000.

e-DESK will generate a digital learning pathway to explain this new methodology to teachers and will provide them with multiple training materials: a methodological guide, multimedia tools, software examples, gamification and digital strategies, and tutorials on open-source digital platforms.