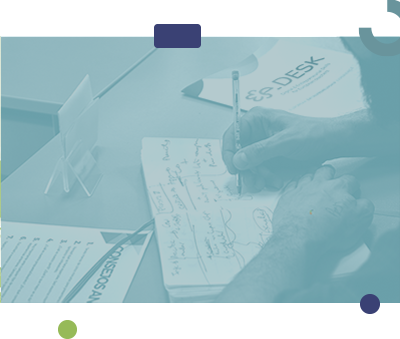 21 Ago

The Erasmus+ 'e-Desk' program publishes an innovative hybrid teaching methodology aimed at university teachers

The methodology is complemented by a 'ToolKit' with examples, resources and tools for easy implementation in the classroom

Both documents are completely free and can be downloaded from the program's website

The Erasmus+ 'e-Desk' program, led by CISE in collaboration with the University of Cantabria (UC), University of LUT, Universidade Nova de Lisboa and University of Zagreb, has designed a hybrid teaching methodology that allows university teachers to successfully adapt their classes to a hybrid format while acquiring digital and entrepreneurial skills.

In addition, e-Desk partners have created a 'ToolKit': a compendium of recommendations, examples, best practices or tools that enable teachers to adapt their classes to a hybrid teaching format.

The two documents are completely free and adaptable to different contexts and classrooms. They can be downloaded from the program's website www.edeskeurope.eu/edesk-tools/.

The e-Desk Methodology aims to become a reference tool for educational institutions and university professors across Europe to design, adapt, implement and measure blended learning programs. It contributes to improving the effectiveness of higher education programs and enables teachers to be better prepared to adapt their classes. Ensuring greater accessibility and equal opportunities for students.

To develop it, the partners of this European initiative have detected the key success factors of hybrid educational programs, identified international best practices in entrepreneurial and multidisciplinary education with online and blended learning approach. It contains key concepts based on the 'EntreComp' and 'DigComp' frameworks, which enable teachers to acquire entrepreneurial competencies and digital skills so that they can adapt to change and be able to design and implement new solutions to complex challenges.

These documents complete the training that 'e-Desk' has been developing during its development: a best practices guide, a digital course and several workshops and pilot experiences. All of this has been tested by more than 40 European teachers who have helped to build the resources with their experience.

In total, the program has already had an impact on more than 1,000 teachers throughout Europe.

ABOUT E-DESK

The COVID-19 pandemic highlighted the imposition of digital or blended learning models and the importance of entrepreneurial skills for the employability of young Europeans, highlighting the need to provide educational institutions with a set of tools, resources and skills that allow them to easily adapt to this new reality.

e-DESK is an initiative included in the European Erasmus+ program. Led by CISE in coordination with the University of Cantabria (UC), Lappeenranta-Lahti University (LUT), the Nova University of Lisbon and the University of Zagreb, it aims to provide teachers with the necessary training and tools to facilitate the acquisition of digital and entrepreneurial skills. The project is aligned with the objectives of the European reference frameworks on digitization (DIGCOMP) and entrepreneurship (EntreComp) set by the European Union as priorities in its policy for the coming years.